| | |
| --- | --- |
| Posted on August 7, 2019 at 8:45 AM | |
The 8/8 portal is energetically significant as it opens a period of clearing out old programming, emotional energies, and healing cycles that are not to be repeated or turned into karma. The Lionsgate is given this name because it occurs in the sign of Leo, and is the mid-point of the sign at 15/16 degrees. The number 8 is associated with mastery, reward, abundance, and manifestation, making this an auspicious energy field for intentions and creation.
Sirius is commonly associated with the Lionsgate, but it's important to note that Sirius is a fixed star located at 14 degrees Cancer. It is the brightest star in the sky; Sirius is 26 times brighter, and the twice the size, of our solar system's Sun. Sirius was viewed in the sky above the pyramids by ancient Egyptians during this time of the year, and it was commonly interpreted as a sign of prosperity, harvest, and abundance. The North Node will be conjunct Sirius for the first time in 19 years from late August to late September, supporting the development of higher emotional expressions and clearing out expired maternal lineage imprints.
The 8/8 portal is an activation for Starseeds to experience greater consciousness around their talents, energies, healing, origins, and soul mission on the planet.
Listen to this podcast right here. 
| | |
| --- | --- |
| Posted on August 2, 2019 at 6:45 AM | |
Jupiter transited into Sagittarius in November and the lights came back on! Faith returns and Divine Timing comes in at full force as Jupiter voyages home and expands what you want the most.
Jupiter AMPLIFIES - even to a fault - so now is the time to be clear in what your driving intentions are and what you want to create next. Look at where Sagittarius energy is in your natal astrology chart for where the abundance and expansion is arriving. Watch out for excess, exaggeration, big lies, and going too far though...SOME boundaries and restraint will be required.
Jupiter entered Sagittarius on November 9, 2018 for the first time in 12 years, and will be a significant energy shift from the deep-dive of Jupiter in Scorpio. I'll explain why this Jupiter in Sag cycle will be very different from the last one in 2006 and 2007, including the rise of collective consciousness energies as Jupiter traverses the Galactic Center in 2019.
Jupiter voyages to 24 degrees Sag, where it stations retrograde on April 11, and travels back to 14 degrees until August 12, 2019.
Jupiter will remain in Sagittarius until December 2, 2019.
Last Jupiter in Sag cycle:
November 9 2006 to December 18 2007
Pluto in Sagittarius:
November 11, 1995 to November 25, 2008
Saturn in Sagittarius:
December 24 2014 to December 20, 2017
May this help RISE you up to your next adventure!
| | |
| --- | --- |
| Posted on July 23, 2019 at 8:55 AM | |
Strong Capricorn energies are keeping us in our human responsibilities, yet our soul is requiring us to move ahead into the new chapter. Change is underway, and it can also feel like energy is moving slowly in some areas of life.
Jupiter RX in Sag is testing your belief in the bigger picture, especially as the square from Neptune RX in Pisces is keeping the full truth veiled and hidden until October 2019. A strong energy of initiation is happening in the higher realms as your soul energy is growing while your human life is experiencing another energy field.
 
Planets and points between 13 to 21 degrees of the Cardinal signs (Aries, Cancer, Libra, Capricorn) are being strongly affected by Saturn, Pluto and the South Node in Capricorn over the next few months. Keep believing in yourself, justice, truth, and the higher principles of the Universal Spiritual Laws.
Listen to this podcast right here.
 
| | |
| --- | --- |
| Posted on July 18, 2019 at 7:40 AM | |
The Capricorn Lunar Eclipse energies will remain active into 2020, as the shadow and light energies continue to interact at multiple levels of experience. We are officially moving through a "no going back" phase and you can be feeling this in your life, as well as in the world at large.
Powerful paradigm-shifting energies have been streaming through, and you may feel disrupted sleep, anxiety, doubt, fear, pain, and numerous other feelings. But know that the Divine is also here, supporting these energy streams from your soul's frequency.
Mercury retrogrades back in to Cancer on July 20 and the Sun enters Leo on July 22. We are reviewing the story at hand while gaining confidence in what is next that is a fit for what you want now.
Venus in Cancer opposes Pluto in Capricorn on July 20/21, which can be a power struggle that is meant to make you stronger and clearer in taking care of yourself now.
More to share in this week's show.
| | |
| --- | --- |
| Posted on July 14, 2019 at 2:20 PM | |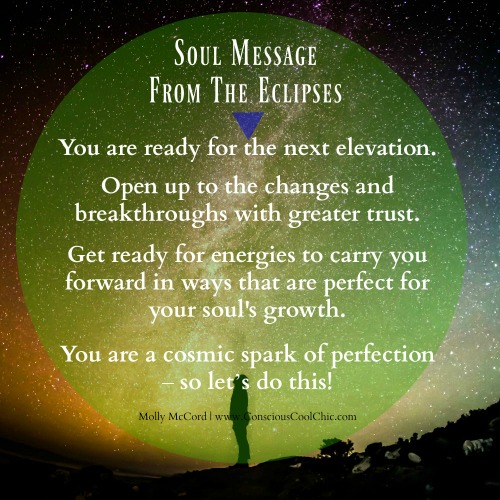 Eclipses happen twice a year, and give us the boost - or big push - to keep moving forward with what is in our best and highest good. They can be tough and very difficult at times, but also quite rewarding and swift with developments that are in alignment with your path.
In 2019, we will have 5 eclipses.
Dynamic changes are the name of the game, especially as the consciousness on the planet continues to rise and the frequency of the world rises up.
Eclipses show you what is not working and where to re-direct your energy; or conversely, where you are ready to move ahead with greater gusto. Breakdowns and breakthroughs are all in your favor in the long-run, especially when you can remain in your power and know that you have everything you need each step of the way.
Onwards and upwards!
| | |
| --- | --- |
| Posted on July 12, 2019 at 8:10 AM | |
What an auspicious week! We are in between eclipses, and the Sun in Cancer is making significant connections to the North Node, Saturn, and Neptune, all at 17 degrees. Big energy shifts are happening this week and Divine intervention has arrived to support both the letting go, as well as trusting what is forming.
Mercury is moving backwards slowly in Leo since stationing retrograde on July 7th, and Mars in Leo is busting ahead into new territory with strength. Both Mercury and Mars are squaring Uranus in Taurus, while also trining Chiron in Aries - new soul downloads are coming through that can feel erratic, uncomfortable, and difficult to understand mentally. Instead of overthinking it, take care of the physical messages you are receiving and stay in the present moment.
A lot is happening right now as we enter the second half of July. The Capricorn Full Moon Lunar Eclipse is the biggest one of the year as the Moon conjuncts Pluto and opposes the Sun, signaling that permanent, powerful changes are happening in our consciousness and soul growth.
More to share in this week's podcast here.
| | |
| --- | --- |
| Posted on June 30, 2019 at 8:15 AM | |
Time to step out with soul power as Aquarian energies continue to guide us into greater knowingness of ourselves and our unique gifts.
The Age of Aquarius relates to where Earth is traveling in the cosmos, which shifts every 2,100 years or so (give or take a few decades), and a full cycle through all 12 signs takes 26,000 years. We are on the planet at a key time as we flow from the Age of Pisces into the Age of Aquarius, and this energy shift is significant for each of us at a soul level.
I'll explain more about these deeper changes and soul missions we are meant to integrate and own as Aquarian energies guide us forward, individually and collectively.
| | |
| --- | --- |
| Posted on June 28, 2019 at 8:05 AM | |
2019 has 5 eclipses, and July brings us the biggest ones of the year as we initiate higher potentials through the cardinal signs of Cancer and Capricorn.
We are breaking through old paradigms that no longer align with collective values, and that can be emotional, messy, and deep. Cancer and Capricorn energies ask us to look at what we do in our inner world and outer world, and the eclipses are pushing us to see how to re-align these two aspects of our reality into a new cohesive whole.
Eclipses coincide with the North Node and South Node cycles, and similar eclipse degrees can be activated over ongoing cycles.
July 2 - New Moon Solar Eclipse at 10 deg 37 Cancer
Keywords: Emotional body, heart consciousness, motherhood, nurturing, home life, family priorities, inner world, alone time, children, real estate, home projects
July 16 - Full Moon Lunar Eclipse at 24 deg 04 Capricorn
Keywords: Transformation, permanent societal changes, personal authority, status change, career choices, professional priorities, new directions, karmic revelations
Listen to this podcast and energies right here
| | |
| --- | --- |
| Posted on June 22, 2019 at 6:30 AM | |
Eris is a dwarf planet that travels outside of the orbit of Pluto. Eris is known as the Goddess of Discord and Strife, due to her Greek mythology of not being invited to a family wedding, and to get revenge, she later initiated the Trojan War.
Eris, traveling in the shadow of Pluto, is the feminine archetype of an angry warrioress, a woman scorned, and the deep desire for revenge at any cost.
She is the female counterpart of Mars, and the younger sister of Pluto, creating a feisty, powerful energy of aggression and independence pulsing through the bloodstream.
In astrology, Eris has been in Aries since June 1922, and she will journey through Aries until June 2044. Her slow-moving orbit means she only moves a few degrees a year, and she is currently moving between 23 degrees Aries and 24 degrees Aries over the next few years.
Check out more on my YT channel here about her archetypes and soul growth themes. 
| | |
| --- | --- |
| Posted on June 11, 2019 at 9:25 AM | |
An energy push is coming through to make a choice around who you are and what you believe in, but are you feeling trapped, caged, or stuck?
This week is a time of taking responsibility for yourself and all of your choices at a higher level so you can set yourself free.
Mars in Cancer is showing us what has not been satisfying and where we are ready to grow as it conjuncts the North Node and trines Neptune in Pisces before opposing Saturn and Pluto in Capricorn.
Our desire cannot be repressed, yet you may feel an emotional block, so let's move through it in Monday's show.