| | |
| --- | --- |
| Posted on August 27, 2019 at 8:00 PM | |
This powerful Virgo New Moon at 7 degrees means it is time to crystallize your creative intentions and take action as you prioritize your soul mission in the physical world - NOW. The Sun and Moon are receiving powerful support from a Mars conjunction, which provides energy and desire to do the necessary work. The trine from Uranus in Taurus adds pizzazz and excitement into what you are growing, as well as opening new doorways where before there could have been walls.
All 5 planets in Virgo (Mercury, Moon, Sun, Mars, and Venus) are creating a rare stellium, which is a strong focal point of energy in one astrological sign. Virgo is now bringing us back to the tasks at hand that need our attention, time, and effort. You may be looking at what needs to improve, change, or shift in the Virgo areas of your chart, as well as feeling a renewed connection with your body and its messages.
Virgo brings in earth medicine to ground, center, and balance us in the physical world after all of the creative expression of Leo. Now you will see what has legs to stand, grow, and develop, and what needs to be cut off of the To Do list.
Learn more about this awesome energy right here.
| | |
| --- | --- |
| Posted on August 11, 2019 at 8:00 PM | |
Strong Leo energy continues through the middle of August as the Sun travels with Venus and amplifies the courage needed to create the life you want and to be yourself with renewed confidence. Then the Aquarius Full Moon at 22 degrees on August 15 provides a stepping away from the egoic Self to see the bigger cosmic picture with detachment.
The Moon in Aquarius elevates us up and out into new quantum potentials and the higher perspective of possibilities that exist, even when we can't see them in a tangible form. This Full Moon is an opportunity to integrate what is right for you with what is right for humanity, and to ensure you are connecting your light to what is best for All. Don't be too locked into a particular outcome. Go beyond what is visible right now and open up to more.
The Sun and Venus in Leo are experiencing a quincunx with Pluto at 21 degrees Capricorn after moving through a quincunx with Neptune at 17 degrees Pisces on August 10. The Leo will and desire to create on your own terms is being subjugated to bigger Universal energies that require you to rise above self-interest (Leo) and connect with powerful evolutionary changes (Pluto and Neptune) as the collective journey unfolds.
Mercury in Leo is now out of its retrograde shadow period and approaching an electrifying square to Uranus in Taurus, which shakes up what we thought something "had" to look like, or how it needed to be said. Uranus jolts the mind into a higher understanding of what you want, but it can also show up as unexpected communications, breakthroughs, issues with technology, and anything that Mercury rules (travel, words, ideas, projects, siblings, vehicles, etc).
May this dynamic Aquarius Full Moon bring you exactly the breakthroughs and higher understanding that you're ready to feel at a soul level.
| | |
| --- | --- |
| Posted on July 26, 2019 at 8:00 PM | |
The Sun, Moon, Venus, and Mars are all in Leo on the July 31 New Moon, providing strength for new beginnings and a fresh connection to your creative light after the last two eclipses. Leo energy is strong now and you may feel clarity around where to direct your power because the answers reside in your solar plexus and heart's desires. Look in your chart for where 8/9 degrees Leo resides, as the house placement is where you are receiving solar strength for your new intentions.
Mercury stations retrograde on July 31 at 23 degrees Cancer, returning to what he was thinking about in late June when he was at the same point. Mercury's shadow zone lasts until the middle of August, so give yourself time to shift through the realignment of feminine (Cancer) and masculine (Leo) needs.
The biggest news in the chart is Uranus at 6 degrees Taurus squaring the Sun, Moon, and Venus in Leo. Uranus shakes up what each of these planets wants, so there could be little "terra firma" during this New Moon. These same planets are also receiving a support trine from Chiron in Aries, which returns you to understanding more about who you are now, and to own your emerging self-identity confidently.
More to share in the video right here. 
| | |
| --- | --- |
| Posted on July 14, 2019 at 2:20 PM | |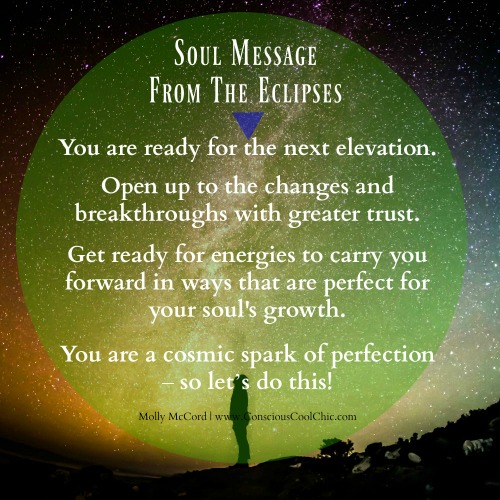 Eclipses happen twice a year, and give us the boost - or big push - to keep moving forward with what is in our best and highest good. They can be tough and very difficult at times, but also quite rewarding and swift with developments that are in alignment with your path.
In 2019, we will have 5 eclipses.
Dynamic changes are the name of the game, especially as the consciousness on the planet continues to rise and the frequency of the world rises up.
Eclipses show you what is not working and where to re-direct your energy; or conversely, where you are ready to move ahead with greater gusto. Breakdowns and breakthroughs are all in your favor in the long-run, especially when you can remain in your power and know that you have everything you need each step of the way.
Onwards and upwards!
| | |
| --- | --- |
| Posted on June 28, 2019 at 8:05 AM | |
2019 has 5 eclipses, and July brings us the biggest ones of the year as we initiate higher potentials through the cardinal signs of Cancer and Capricorn.
We are breaking through old paradigms that no longer align with collective values, and that can be emotional, messy, and deep. Cancer and Capricorn energies ask us to look at what we do in our inner world and outer world, and the eclipses are pushing us to see how to re-align these two aspects of our reality into a new cohesive whole.
Eclipses coincide with the North Node and South Node cycles, and similar eclipse degrees can be activated over ongoing cycles.
July 2 - New Moon Solar Eclipse at 10 deg 37 Cancer
Keywords: Emotional body, heart consciousness, motherhood, nurturing, home life, family priorities, inner world, alone time, children, real estate, home projects
July 16 - Full Moon Lunar Eclipse at 24 deg 04 Capricorn
Keywords: Transformation, permanent societal changes, personal authority, status change, career choices, professional priorities, new directions, karmic revelations
Listen to this podcast and energies right here
| | |
| --- | --- |
| Posted on June 24, 2019 at 7:00 AM | |
A higher heart-based beginning is here! The New Moon Solar Eclipse occurs on July 2, 2019 at 11 degrees Cancer and brings us into our internal guiding beacons to trust the way forward.
The Sun and Moon in Cancer, plus the North Node in Cancer, are activating what feels right within, as it's time to pull back from the external world's obligations and responsibilities that no longer resonate with you.
Cancer is your place of personal feelings, safety, home, sacred space, private world, and womb creation energies. As a cardinal sign, Cancer eclipses mean we are initiating new experiences that come from our lunar needs and instinctual desires.
Mercury and Mars in Leo both provide strength, will, and courage to follow what is truly you, and yet Mercury is about to station retrograde at 4 degrees Leo on July 7.
Most of July is about internal readjustments so you can make the right choices based on what you need and want with less intrusion from others.
More to share in this eclipse chart right here. 
| | |
| --- | --- |
| Posted on June 16, 2019 at 6:50 AM | |
The Moon in Sagittarius lifts us out of the mind's perceptions to see a higher path and bigger vision.
The Moon has just been conjunct expansive Jupiter in Sag, the ruler of this Full Moon, and this buoyant optimism has perhaps given us a new way to believe something (or someone) is better than what we thought.⠀
The Sun in Gemini is unaspected after this Full Moon, meaning the mind quiets down as we turn to our internal voice and listening to what we think. ⠀
The bigger tension during this Full Moon involves Mars, Mercury, and the North Node in Cancer opposing Saturn, Pluto, and the South Node in Capricorn. Divisive changes are underway, and these energies will become stronger as we move into the July eclipses. ⠀
⠀
Go to my YT channel to check it out here.
| | |
| --- | --- |
| Posted on June 1, 2019 at 10:40 AM | |
Fun is in the air as the Sun and Moon connect at 12 degrees Gemini on June 3, 2019. Life is especially busy during this New Moon cycle, so look at where your chart is being activated with new thoughts, ideas, and projects.
Gemini's ruling planet, Mercury, is finishing up a quick two week journey through his home sign, and there is a lot to say, text, write, ask, and learn - perhaps TOO much. We can feel pulled in many directions, with too many choices to consider or commit to at the moment. With this New Moon, make an intention to arrive at mindful decisions and to allow your breathe to guide you.
After this New Moon is exact, the Moon and Sun in Gemini will each make a T-Square with Jupiter in Sag and Neptune in Pisces, adding more possibilities to the mutable signs' desires to be free, flexible and open. Enjoy the options that are presented or come along as this is a time to break out of indecision or any self-imposed mental cages. Let go of assumptions and ask questions to gather more details.
Gemini is a mental investigator, and now is the perfect time for finding solutions that you possibly didn't see before. This is also the last New Moon before we begin the next eclipse cycle on July 2.
Check out the energies of the Gemini New Moon right here
| | |
| --- | --- |
| Posted on May 15, 2019 at 8:30 AM | |
Big energies open up with this Scorpio Full Moon at 27 degrees as we are receptive to galactic streams of consciousness and awareness at a pivotal point in 2019. Every lunation is an invitation for conscious re-connection to our emotional body, spiritual growth, and intuitive powers as we are gifted with tuning in to what we cannot see.
The Scorpio Full Moon transforms one level of consciousness into another, but we have to go through a deep cleansing experience of what we fear in order to arrive on the other side. Allow any ("eeks, I don't like this") fears or ("this feels really crappy") emotional wounds to be invitations for accessing more of your untapped power. You are supported by cosmic forces to keep understanding the higher perspective that is not being revealed just yet - there are always secrets and hidden agendas with Scorpio, after all.
Strong water (Moon, Mars, Neptune, North Node) and earth energies (Sun, Mercury, Saturn, Uranus, Pluto) in this Full Moon support cleansing and movement in our physical bodies and environments. Ensure your emotional self and physical self are in harmony with the natural Universal flows. You may even feel that your body is receiving more than it can handle at times as the energy starts building when the Moon enters Scorpio on May 16.
Check out the energies right here
| | |
| --- | --- |
| Posted on April 16, 2019 at 7:20 AM | |
The second Libra Full Moon of 2019 is a time to complete a part of your soul's journey that allows you to move forward with greater confidence and connection to who you are now. The moon at 29 degrees Libra is asking for objective understanding around relationship dynamics or patterns that you are meant to see in yourself.
Venus in Pisces is the ruler of this Full Moon and she is asking you to be kind to your heart and loving around the lessons that are ending. A strong completion energy is within this lunar cycle. Let go consciously or get dragged.
Both the Moon and Sun interact directly with Uranus in Taurus, igniting breakthroughs, cosmic changes, and a disruption to the status quo.
Plus, the lunar cycle returns to its natural rhythm after this Full Moon, signaling another pivotal change in how we build, manifest, and live in sync with flows of energies.
Check out this Full Moon energy right here.